With just a few days left in November, winter is about to kick into high gear in Indianapolis. It seems like we go from thawing out the turkey to thawing out ourselves in the blink of an eye this time of year! If you wear hearing aids, you'll have to take precautions to keep them safe in cold weather.
Cold & Electronics Don't Mix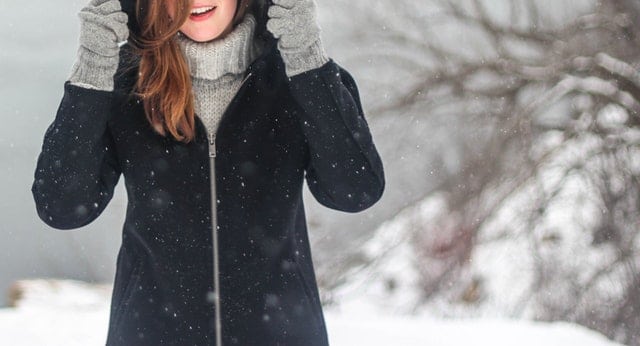 Bundling up when stepping outside during the winter is a no-brainer for hearty Midwesterners. It's just as important to make sure your hearing aids are protected when wearing them outdoors this time of year.
Like most electronics, hearing devices are susceptible to cold temperature extremes. Batteries lose capacity in cold weather and are likely to die quickly, if they even work at all. Condensation is another problem; when you're outside in cold weather, your body generates heat. When you go inside, the sudden change in temperature turns the heat into condensation. This moisture can damage the internal circuitry of your hearing aids, leading to costly repairs—not to mention the inconvenience of going without them for a period of time. 
To ensure your hearing aids operate efficiently all winter long, your Indianapolis audiologist recommends the following strategies.
Tips for Protecting Your Hearing Aid
Protect them from the cold. Cold temperatures will quickly drain hearing aid batteries. Do not leave your devices in a cold car or near a drafty window. When wearing them outdoors, cover them up with a hat, scarf, earmuffs or beanie to prevent direct exposure to cold, wind, rain, snow and sleet. If you're participating in a winter sports activity like skiing or snowboarding, consider removing your hearing aids and storing them someplace warm until you're finished.
Keep them away from moisture. You can perspire even in the cold, especially if you are engaged in vigorous outdoor activity. Protect your hearing aids from sweat by wearing a breathable moisture-absorbing hat, or invest in a hearing aid sweatband if you wear a BTE (behind-the-ear) device. Take out your hearing aids when you go indoors and wipe them down with a soft cloth to remove condensation. When you remove them at night, leave the battery compartment door open for ventilation and store them in a dehumidifier to prevent moisture buildup.
Miscellaneous advice. A few other helpful hints for keeping your hearing aids protected: Don't ever dry them out by placing them near a furnace or other heat source; this could cause them to melt. Likewise, don't use a hair dryer on them. Keep a ready supply of batteries on hand during the winter months to prepare for a drop in performance. If you spend frequent time outdoors and are ready to upgrade your hearing aids, consider purchasing water-resistant devices.
Your Indianapolis audiologist is happy to share more tips on protecting your hearing aids from cold weather. Contact them today for more information.